Scott Ferguson

Owner

in Conway, AR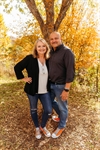 Scott is a full time laser technician at UAMS and co-owner of NextHome Local Realty.
In his capacity as owner he is the business manager, photographer, and licensed drone pilot offering high quality visual marketing on all of our listings.
In addition, Scott's drone services are available to other Realtors who may want to step up their marketing and other business entities outside of the real estate world. If your interested in obtaining his services please do not hesitate to contact him for rates and scheduling.
Scott is a father and grandfather who enjoys many outdoor activities including camping, fishing, hunting, hiking, biking, and playing with his European Show Dobermans. His background in construction has helped him to identify the special features of each home that potential buyers want to see. Scott is an integral part of The Savvy Team and keeps the technology and marketing top notch at all times!